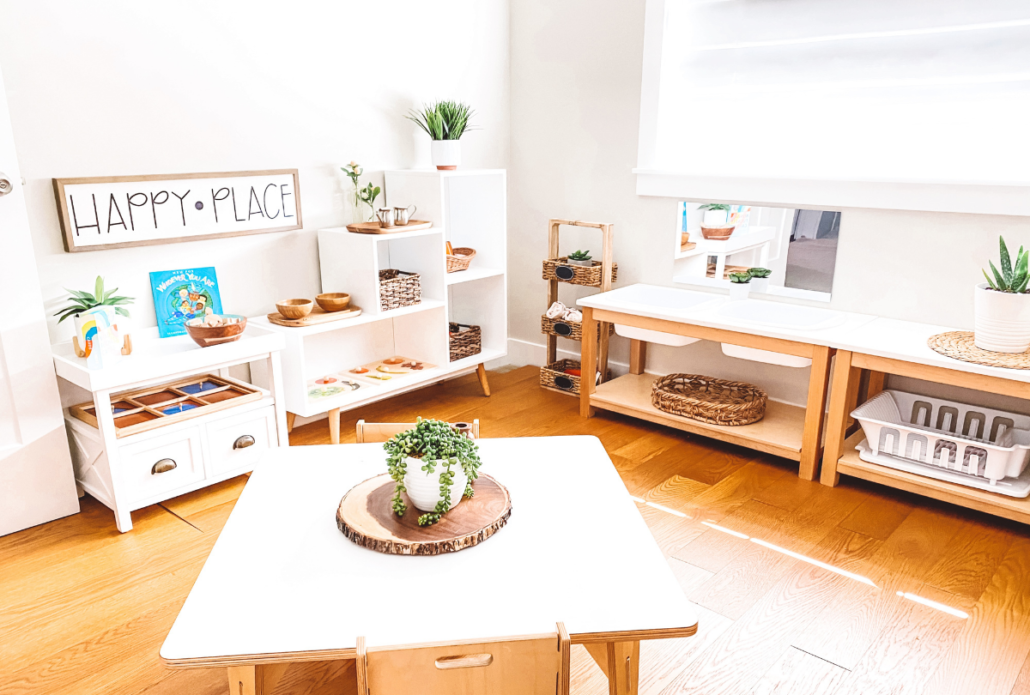 Principle #2
Structure, Organization and Simplicity in a Montessori Environment
Step into any Montessori environment and you will see right away a few key things that stick out and are pretty universal.  You will notice the…
Organization
Order
Simplicity
Beauty and
Structure
Let's Talk Organization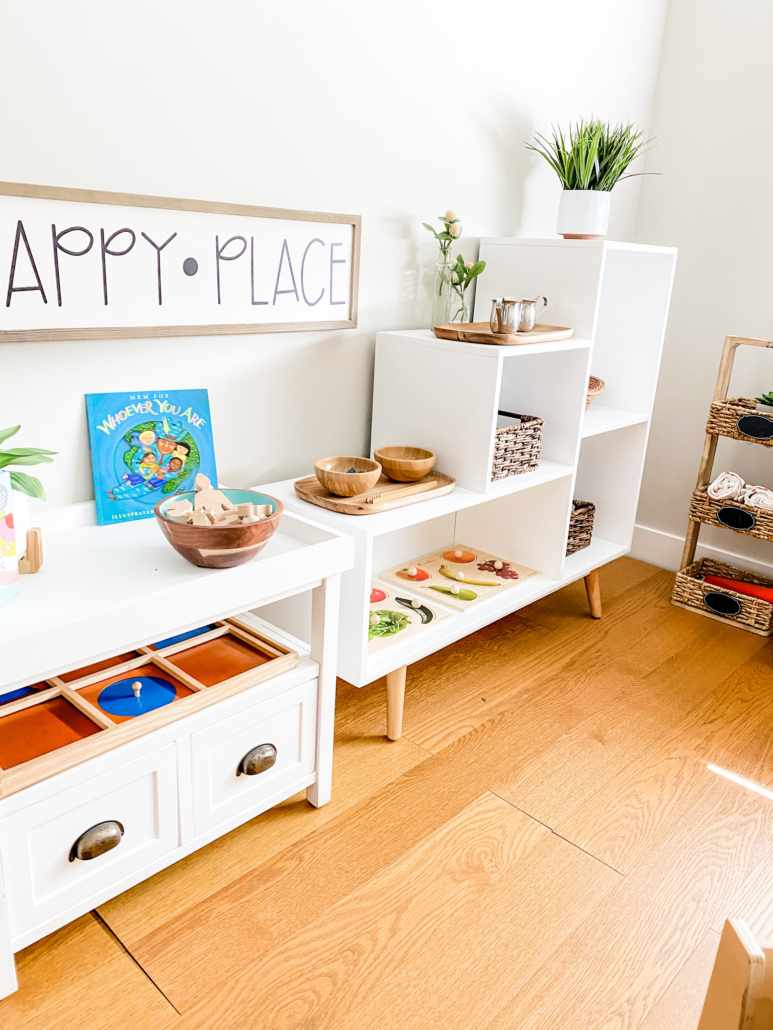 When small children are developing their understanding of how things work and move in their world, the Montessori environment is very grounding and directly assists with this important process.  Montessori environments are set up so that everything has a specific place and a definite purpose which is very calming to a busy mind.  Everything is child sized or has been modified so that children have access to the things they need. They can help themselves as they easily move into an independent way of thinking and doing.  Maria Montessori taught us that this independent stage, even at an early age (think as young as one years old), is normal for the child and crucial for the adult to recognize and accommodate in order for the child to properly grow and develop.  In reference to her school in Italy, Maria Montessori wrote,
"When a child is given a little leeway, he will at once shout, 'I want to do it!' But in our schools, which have an environment adapted to children's needs, they say, 'Help me to do it alone.'"—Maria Montessori, The Secret of Childhood
Finding the Flow
Montessori children are shown early on how to organize and keep their environment. They quickly feel at home and at peace because of the organization.  It reminds me of Feng Shui….are you familiar with this? On the blog, "the Spruce," they give a definition for Fung Shui that resonates with us. They say,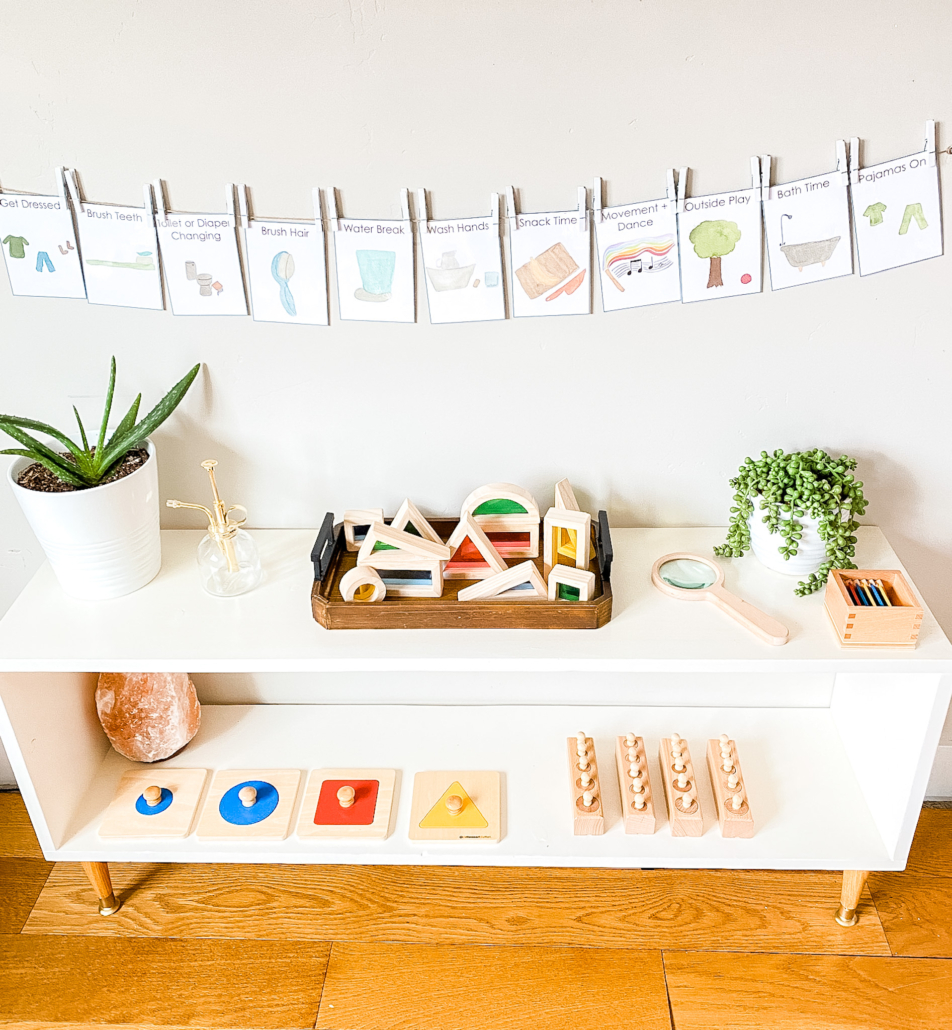 "it is a practice of arranging the pieces in living spaces in order to create balance with the natural world. The goal is to harness energy forces and establish harmony between an individual and their environment." Makes sense doesn't it? Think on it a bit.
By creating an orderly, inviting play and work space for your child you will help them to establish harmony between 'themselves and their environment.'  Wouldn't this bring you peace and harmony as well?  I know it does for me.  My energy flows so much better and deeper when I'm working in an organized space and children are no different.  When children's toys and work are all over the floor with no real defined place for them to go, our children miss the "flow" that  comes from defined and organized spaces.  It has been my experience over the years that organization can help bring about a peaceful and calm learning space.  If you have ever observed a Montessori classroom or home environment in session you have seen evidence of this structure and flow.
Experiences in Their Environment

Montessori children are naturally drawn to the materials in their environment and how to use them, as well as the organization. They begin early on emulating what they see a parent or older siblings do as members of a household or students in a classroom. They are eager to learn how things work and how to purposely use them. Presenting a material to a child, then allowing them to work with the material is very satisfying for them. Modeling daily living such as cleaning, cooking, and care of self makes the child want to do what you are doing. It is up to us as the adult to provide the opportunities for children to practice these skills. There is no better place than in the home to make this happen.
"Children acquire knowledge through experience in the environment." –Maria Montessori, The 1946 London Lectures
Simplicity and Structure
One of the things that drew me to Montessori was the peaceful, mindful, organized and structured environment. I loved the idea of preparing an environment based on a child's needs and simplifying the content in a way that would ring true for each individual child in the environment.
The structure is not about control, but providing an environment where the child is free to move about and make choices within limits.  The order of it all has a purpose and the simplicity of the Montessori way of life brings peace.
Montessori environments are simple in the decor. While they are colorful, the colors mainly come from the materials which are made from natural earth elements such as wood, glass, metal, rocks, porcelain, paper, etc. You will notice the use of artwork: maps and photos of things representing cultural studies and things that have been brought in from nature like seashells, rocks, stones, flowers, etc. You will not notice a lot of plastic toys, if any at all. This is because Maria Montessori believed that children, especially who are young and trying to make sense of their world, need real objects to gather their information from. While I personally feel that 'toys' have their purpose, I also feel that they will best serve our children if they are more realistic in scope and made from natural materials.
We try to keep Montessori environments free of clutter especially for younger children who are in their early formative years. Montessori recognized that there is no need for massive amounts of work or toys. If there are too many things in general or too many fantasy type things it can be very overwhelming for a child to navigate so we keep things a little more simplistic and realistic and add more to the environment as children get older and have different needs based on our observations of them.
How Much Stuff is Enough?
Do you have too many things in your child's environment? If you are finding toys and work all over the floor each day, and children resistant to cleaning up, you might have too many choices. Helping children to focus on 4-6 works or activities is really enough. Of course this number changes if you are in a classroom setting, but for the purposes here I will be addressing more of the one on one home environment. During a daily work cycle, 4-6 activities will allow a child to spend more time on one thing, which helps them in developing their sense of concentration.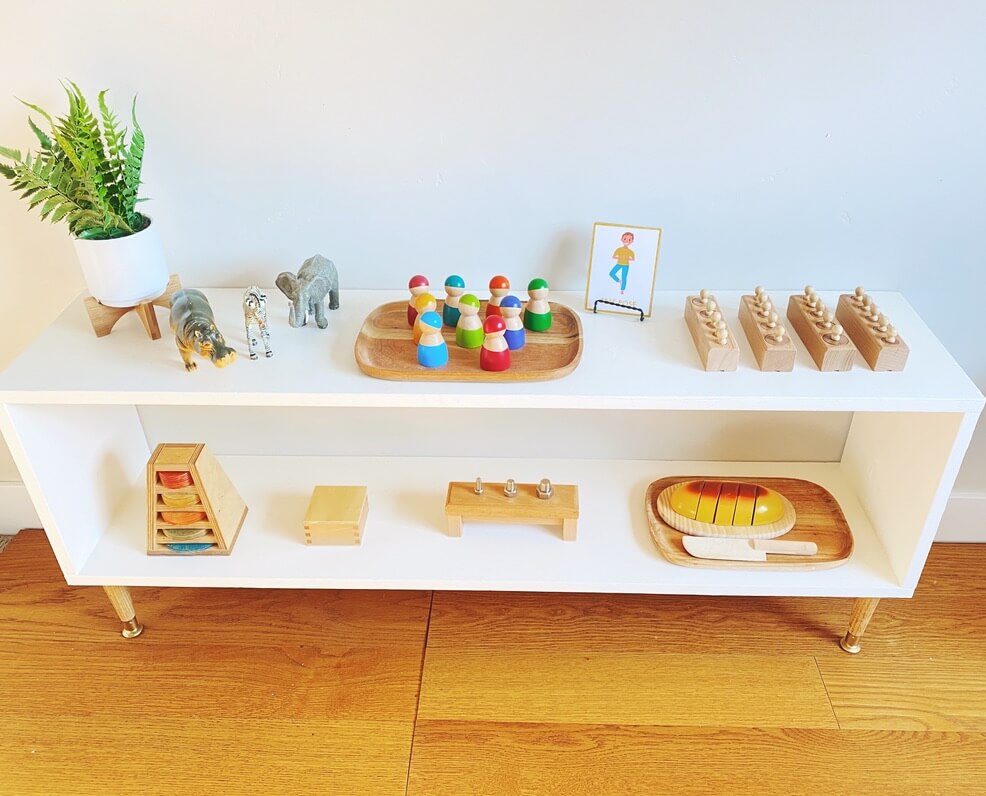 The development of a child's ability to concentrate is important for learning academically. When a child has a room full of baskets of toys and shelves of playthings, it can be very overwhelming, which can cause a child to become over stimulated. This can lead to undesired behaviors, meltdowns and of course this means less time practicing important concentration skills.
"At some given moment it happens that the child becomes deeply interested in a piece of work; we see it in the expression on his face, his intense concentration, the devotion to the exercise."—Maria Montessori, The Discovery of the Child
In our next segment on "The Prepared Environment", we will dive deeper into how to get started on preparing your home and school environment and how to store, rotate and organize your child's materials and toys.
Montessori Materials
Maria Montessori is known for the beautiful, didactic materials that she developed for her classrooms.  Montessori classrooms around the world are filled with these materials and they are not only beautifully made, but they were created to offer order to children while engaging in important foundational academic, social and mental work.
It's important to note that in a homeschool environment it isn't always feasible to have these materials (they can be very expensive) and honestly, they aren't completely necessary.  There are so many ways that you can provide a more Montessori inspired work to your children and in return still provide them with much of the same foundational growth! But if you can afford or want to add any of the formal Montessori materials to your child's work studio, you can find them at places such as these: Nienhuis Montessori or Gonzagarredi Montessori. For a less expensive sourcing you can use one of these places. Alison's Montessori, Montessori Outlet, or Kid Advance.
We have used all of these companies while curating materials for our homes and schools and we will talk about the pros and cons of both the more expensive versus the less expensive materials in a future post, so stay tuned for that.
You can also read more about Montessori Materials and Toys in a previous post about gift giving here.
In Montessori, learning is characterized by joyful work and purposeful play. A few well made materials and containers that can be used for a wide range of learning activities and reused to house new materials, is really all that is needed. Your supply of materials will grow over time because that is human nature but honestly, you will be happy to know that "less is more" in a Montessori Environment. I think the main thing to take away is the kinds of things you keep in your child's work or play space is the key…..not how much you keep.
Bring Nature Inside But Go Outside Too
Having live plants and trinkets collected by your children on walks or hikes adds so much to our indoor spaces. For those of you that can, we suggest pets in your learning spaces as well. Having pieces of nature inside just adds so much to that peaceful feng shui feeling and it offers other learning opportunities for your children, too. So when you can, bring the outdoors…..well in!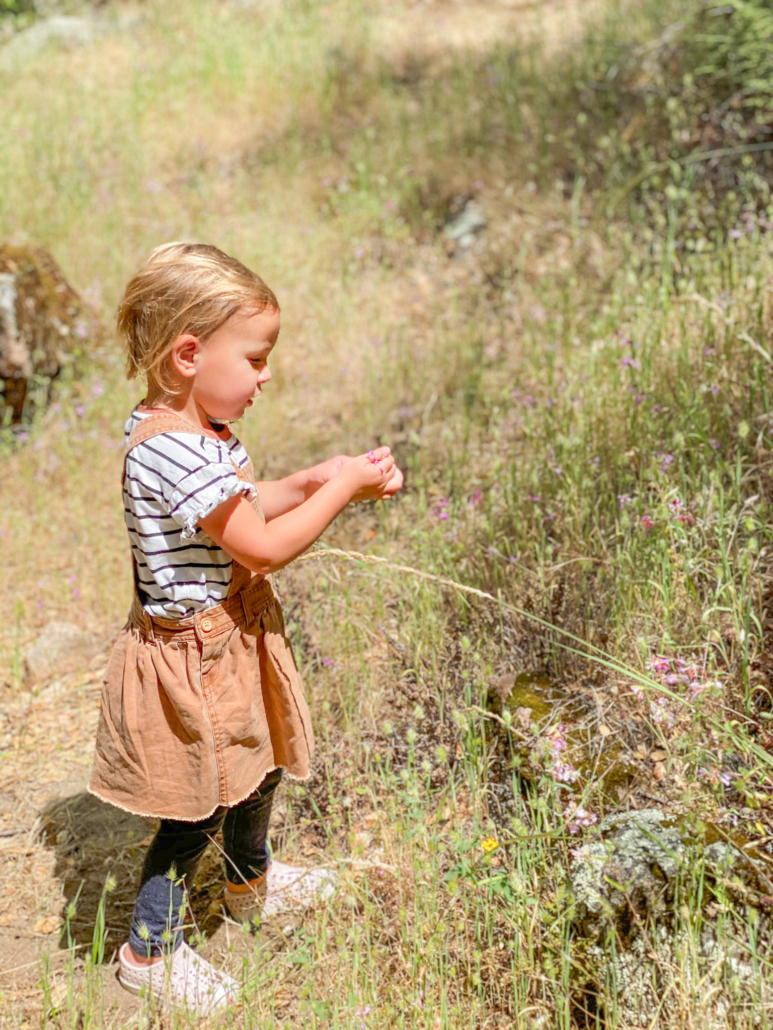 Do your children bang on the back patio window from the time they can barely walk and say over and over again, "outside, outside"? I can almost bet they do and mine did as well. While we always had a full classroom environment set up in our home and our children loved working there, their absolute favorite place to be was outside!  We notice such a sense of concentration while children are outside.  They are free to move from activity to activity and explore their natural environment.  My favorite seasons of the year have always been fall and spring when the weather is perfect and doors to classrooms and homes can be left open connecting the indoor environment to the outdoor spaces, allowing children to free flow between both. Seriously……..Heaven on earth!
Have you heard of the 1000 hours Outside Challenge? As stated on their website, "The entire purpose of 1000 Hours Outside is to attempt to match nature time with screen time. If kids can consume media through screens 1200 hours a year on average, then the time is there and at least some of it can and should be shifted towards a more productive and healthy outcome!" You can find great resources at 1000 Hours Outside.
"When children come into contact with nature they reveal their strength"-Maria Montessori
I will be honest, our outside spaces at our California school are some of my favorites.  While we are in the city limits, we have several large outdoor play spaces, a large garden and an outdoor classroom.  The garden and outdoor classroom are the sweet spot for me.  I love to watch our students absorb all that nature has to offer outside and work in our outdoor classroom (which is set up like an indoor class) but children get the added benefit of working out in nature. It really is unique and special!
Time outside ignites student curiosity and engagement with their learning. Nature-based education uses a hands-on approach to experiencing the natural world. Nature-based education is learning about nature, and also learning through nature. Through active work and learning play in natural environments, children learn about themselves, their peers, and the world in which they live.
Getting children outside and into nature is a daily MUST! This was so important to Maria Montessori that she made sure that her schools were equipped with a lot of outside space, and she allowed the children ample amounts of time for daily work in the gardens.
Rhythms for Families and Classrooms
Creating a "home or family rhythm" is important for harmony and balance and it can be similar in scope to a routine that we would set at school.  Children of all ages, especially Toddlers and Preschool children, thrive on consistency and routine.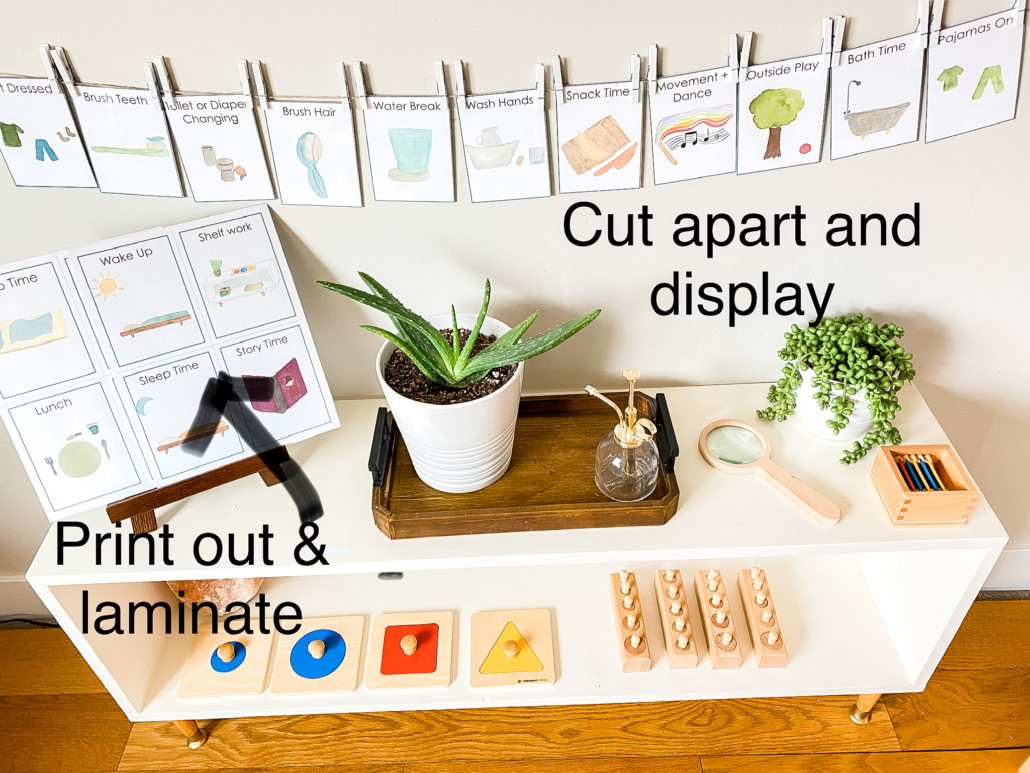 I realize that it might seem difficult to set up a home routine that complements a school routine, but just keep in mind that the "what" of the routine isn't as important as the "consistency" of the routine.
A family routine will look different for each family.  And honestly there is no right or wrong.  It's just about figuring out and working through what is best for your crew.
We have a whole post that talks about how to establish a daily family or classroom rhythm that you can access here. We will give you ideas on how to do it and we list resources as well.  We are also including our favorite Routine cards for FREE that can be used in classrooms and homes alike.  If you haven't tried using Routine Cards in your classrooms and homes, you really should.  Children love knowing what the "plan is for the day" and when they can see it listed by pictures (as ours are) or in writing, it becomes a big part of creating a place of order and organization.
Because of this organization, simplicity and structure, you will find that most Montessori environments are very beautiful and refreshing.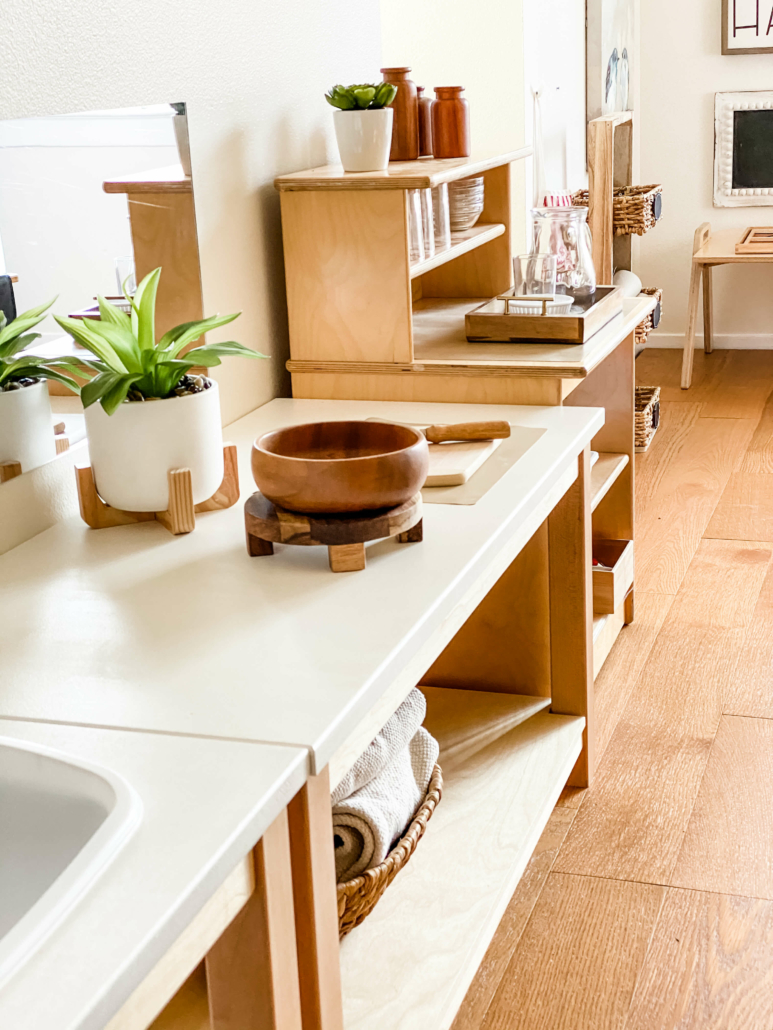 It takes a little bit to get these spaces ready and it may take time to see the difference or understand why we suggest such simplicity and so few activities available, but once you do, it is such a joy to be in that space for both children and adults.  The care of the environment both inside and outside which we will discuss in a later article becomes important to the child.  They can see how beautiful the space is and I believe it drives them to want to respect their place of living.
Stay tuned for next week where we will explain how to get your spaces ready for learning in "The Prepared Environment" segment.
We covered a lot this week! There is so much to absorb, digest and think on.  We are here if you have questions and we will continue all week long to break down each area that we covered with more details so hopefully it will be helpful.  We are excited for you as you start along or recenter your Montessori journeys!  And don't forget your self-care this week!
https://inspiredmontessorilearning.com/wp-content/uploads/2021/02/Blog-Featured-Photo-Template-1.png
810
1200
Rachel Yentes
https://inspiredmontessorilearning.com/wp-content/uploads/2020/06/IMLfortheweb.png
Rachel Yentes
2021-02-10 05:05:08
2021-06-29 17:17:53
Montessori Basics Principle #2 – Structure, Organization and Simplicity in a Montessori Environment