In a Montessori Classroom or home, Grace and Courtesy lessons are continuous and vital building blocks that create a peaceful and cooperative environment. By giving brief grace and courtesy lessons each day, children become mindful of what they are doing in the classroom and at home as they move through their daily routines.
Be an Example
The lessons can be more formal at times but mainly they are just examples of how to do things and are simply stated. For example, a teacher, guide, parent or caregiver might say, "I'm moving the chair quietly" or "I am returning my work where I found it" These simple examples allow a child to observe then practice what you are doing. Without even inviting the child to practice the activity, they begin to practice because children want to copy what they see others doing.
Grace and Courtesy lessons teach everyday social customs and kindness which are vital practical life skills for children to practice daily.
It's important to show a child by example how to extend an invitation, how to decline an invitation, how to ask if you can join an activity, how to enter a room, how to wash hands, how to clean up after themselves and how to extend an apology.
"We must help the child to act for himself, will for himself, think for himself; this is the art of those who aspire to serve the spirit. It is the teacher's joy to welcome the manifestation of the spirit." -Dr. Maria Montessori
Check out our chart for ideas and approximate times by age to introduce certain grace and courtesy lessons to your child. You can certainly introduce lessons at any age, but we find that this guide gives you a pretty solid timeline for appropriate lessons based on a child's ability to understand certain concepts. With that said, always follow your child! :)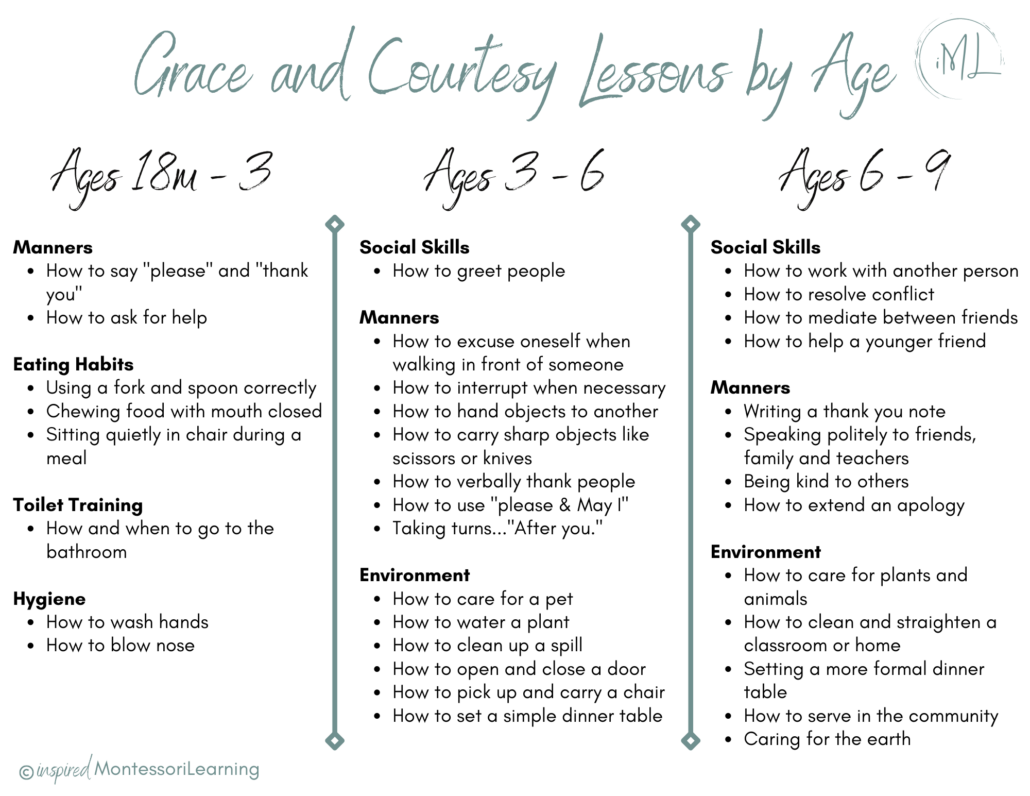 What kinds of Grace and Courtesy lessons do you practice in your homes?
https://inspiredmontessorilearning.com/wp-content/uploads/2021/08/Blog-Featured-Photo-Template-34.png
810
1200
Rachel Yentes
https://inspiredmontessorilearning.com/wp-content/uploads/2020/06/IMLfortheweb.png
Rachel Yentes
2021-08-25 01:40:07
2021-09-02 15:45:21
When to Introduce Grace and Courtesy Lessons