Our Interview With 'Wonder House Of A'
The prepared environment is something that we are really passionate about here at iML. Whether in the home or the classroom, the materials in these learning spaces have a specific purpose and are presented to children in a way that allows them to learn independently and at their own pace. A Montessori prepared environment is by nature, child-centered, child sized and promotes independence and freedom of movement. What's not to love, right?
We interviewed Sara from 'Wonder House of A' who shares this same love of the prepared environment. We've followed her account for awhile now and it is filled with beauty, inspiration, and the Montessori mindset. We know that as you read through her interview and analyze the beautiful pictures of her prepared home, you will learn from her words and example.
What is the "Prepared Environment"? Why is it important to you?
"The prepared environment as we know is a pillar of the Montessori approach. It was
actually one of the first things that drew me to Montessori. I just loved the
beautifully-prepared, child-sized and simplistic Montessori spaces I came across.
But I quickly realized the importance of the prepared environment was a lot deeper
than the beautiful aesthetics. It is truly a foundation on which us as parents can
encourage independence, offer freedom of movement and choice, inspire learning
and provide a sense of order in our homes. What I love the most about Montessori spaces is that they are designed with the child's needs in mind. They are typically accessible, organized and inviting; "yes
spaces" by definition. They give the child ownership over her environment and
allow her to develop the competences required to care for herself and her
environment. And on a deeper level, for me as a parent, it tells my child "this is your
space. You matter. You are seen, heard, supported, loved." And that's a solid
foundation for a growing, learning, little human I think."

I wanted to highlight the idea of "yes spaces." I love the verbiage on this because it's so important that our children have places that feel safe and comfortable to them. So much confidence and independence can come from an environment that is tailored just for them. And there are so many places we can draw inspiration from. Sara has wonderful suggestions below!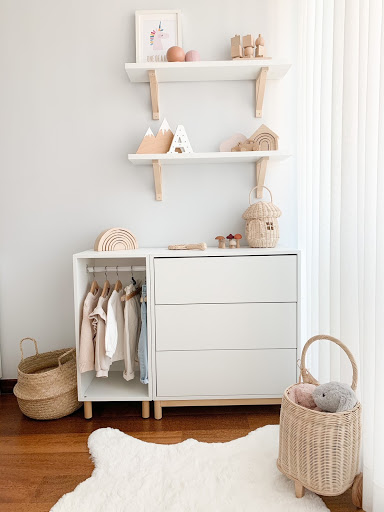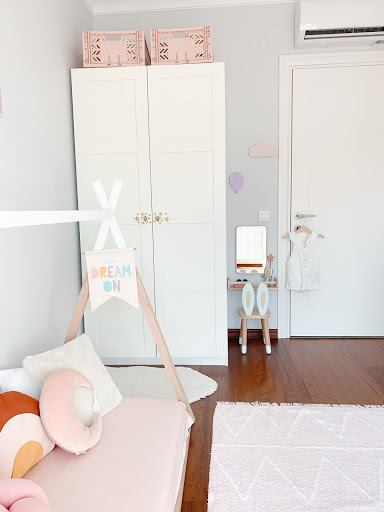 Where do you draw inspiration for your prepared environments at Home?
"When I was just starting out I certainly drew inspiration from Pinterest and
Instagram accounts by more experienced Montessori moms. I was fascinated by
how beautiful and inviting some of the spaces were and how at ease and confident
toddlers looked in those environments. And I felt this strong urge to re-create that
feeling for my daughter.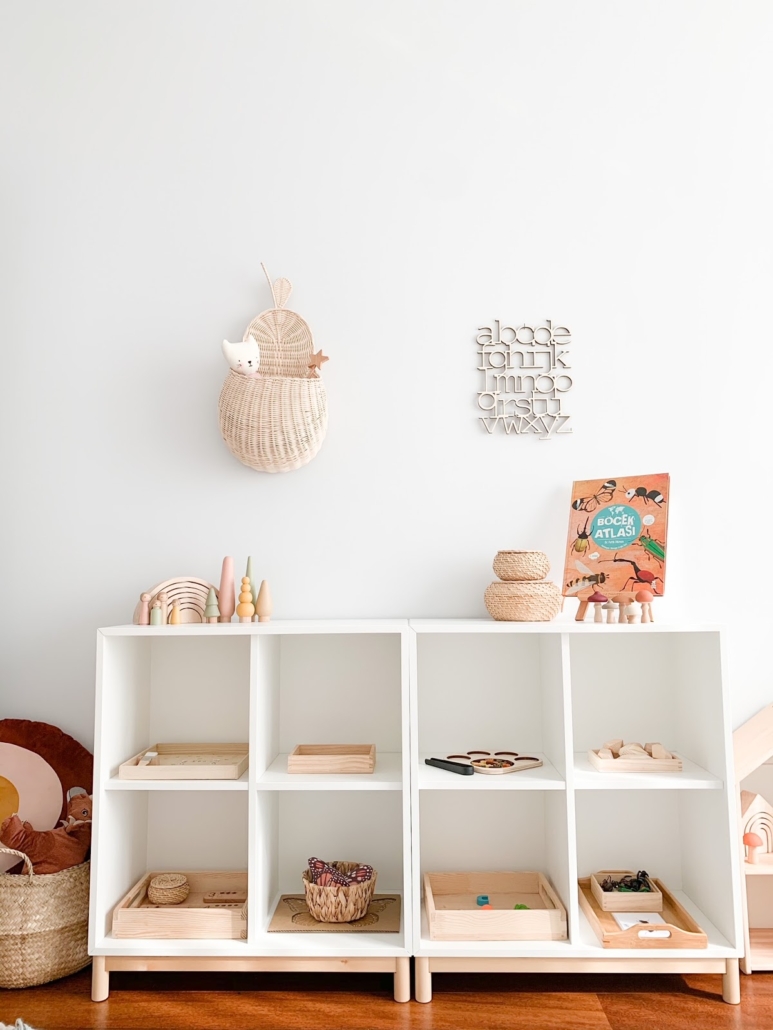 Since starting my journey and delving deeper into Montessori though, I realized my
child and our own family life is my best inspiration. Every child is unique and on
their own individual developmental path. The spaces we create as well as the
materials we offer our children should cater to their unique interests and to our
particular living conditions and family life. This means that Montessori can look
different from one home to another. What works in one household may not
necessarily work in another. And that's OK. Montessori shouldn't have to be an all or
nothing approach."
What beautiful and thought provoking words. She mentioned the Montessori isn't formulaic and rigid by nature but rather is something to be catered to each family and family member. I love this idea of supporting our children and the family through Montessori. It reminds me of a beautiful talk by Joy D. Jones. In it she says, "When we Strengthen the child, we strengthen the family." The Montessori approach does just that!
Where and what kind of materials did you need for these spaces?
"Like many parents starting off on their Montessori journey the first thing we did
was purchase a set of shelves to display her toys. Before that we had all of her toys
out at once and it would get pretty messy. We uncluttered her play space and
started rotating toys according to her interests. This really set the tone for a new
chapter when it came to play and learning. Having the materials displayed on low
accessible shelves, a few items at a time, seemed to stimulate interest, focus and
continued practice, and made it easier for me to observe what was actually
capturing her attention.
After that we set up her floor bed and the reading corner in her bedroom when she
was around 13 months. The rest of the spaces followed gradually. Rather than
having a playroom we opted for areas – "prepared environments" – in most rooms of
our home so that she would be free to move around and this has worked really well
for us. She is now 26 months and we have a few prepared spaces in our home:
In our kitchen, my daughter has her own functional kitchen with her dishes and
utensils, cleaning supplies, a child-sized table and chair, and her learning tower. This
is where we do most of our practical life activities.
In her bedroom she has a floor bed, toddler wardrobe, self-care station, shelf and
reading corner. It's her own little world where everything is accessible to her.
In our living area we have another set of shelves, an art space and a music and
movement area.
In her bathroom there is a potty learning area and we made small adjustments to
make the sink accessible to her with a faucet extender and a stool. She also has her
own entryway station and a plant care station in our balcony.
These spaces continue to evolve with her interests and skills and I imagine our
home will look very different a year from now."
It's amazing how fast our babies grow and evolve! And with their learning and growing, the spaces we create for them are always changing to fit their needs. We have seen our own homes change so much over the last year so that we can honor the natural development of our children. Continue reading to see how Sara's little girl has been impacted by these child-sized and uniquely tailored spaces in her home.
How have your children reacted to these spaces in the home? How
do these areas affect your daily family rhythm?
"These spaces have not only helped my daughter become more independent and self-
confident in her abilities, but they have also helped things run more smoothly when
it comes to daily routines. Having designated areas that are accessible to the child,
where specific tasks are performed, encourages practice, provides choice, and
makes it easier to keep things organized. It also appeals to children's sense of order
and makes it clear what our expectations of them are. Essentially, it helps to set a
foundation for a home based on cooperation.
When it comes to play patterns, having a prepared environment that responds to
the developmental needs and evolving interests of our child has also helped us
gradually increase independent playtime."
Adults need order, routine, and expectations. Why would children be any different? It's innately human to crave the stability that the Montessori environment provides. Although it can be overwhelming when you first begin your Montessori journey because there are many elements to the Montessori world, but at its core is simplicity.  Montessori is meant for everyone. Read on for great advice when it comes to Montessori beginners.

What advice would you give beginners wanting to set up "prepared environments" around the home?
"For parents just starting out on their Montessori journey the task of creating new
Montessori spaces can be so fun but also a bit daunting at first if you don't know
where to start. Scrolling through IG can also leave you feeling like you need to buy
all new wooden toys and child-sized furniture when in reality you can make small
adaptions to your home and existing toys to make it more toddler-friendly and
Montessori-aligned. Please know that you don't have to and shouldn't do it all at
once.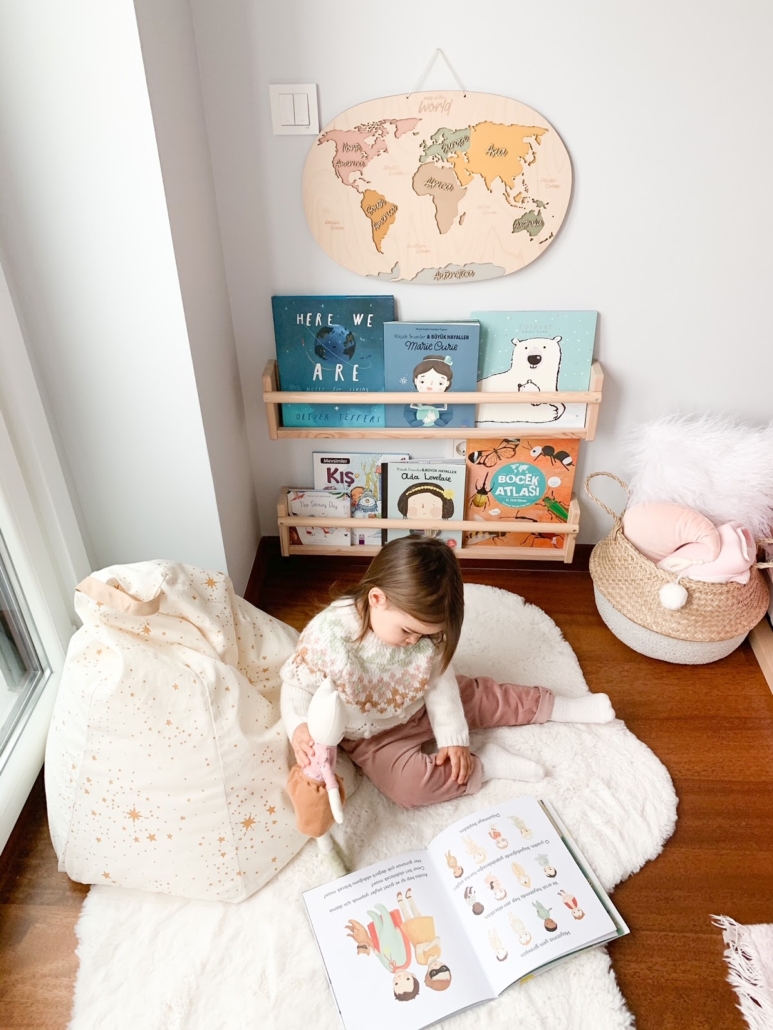 My advice is to start by simplifying. Limit toy choices and start rotating toys based
on your child's current interests. Display them in low accessible shelves or even on
the floor if a shelf is not an immediate option, in baskets or trays, and model putting the activities back in their place. Keep it simple and orderly. This will make it easier for the child to understand what is expected of her and for the parent to observe the child.
Work with what you have at first and improve from there. Before we had our
current reading corner we started off with just a cozy carpet on the floor with some
pillows and a few books in a basket. The important thing is to make it accessible and comfortable.
Let your observations guide you in the creation of new spaces, always keeping in
mind what your child's immediate needs are and what works for your family.
Montessori is fundamentally about following the child. This means respecting the child's natural interests, abilities as well as her unique ways and pace of learning, and the prepared environment should be a reflection of this. Allow the spaces to evolve gradually in tandem with the child's interests and abilities. Our art space
evolved from a child-sized desk with a choice of two art activities to our current set
up with a choice of 4 art trays and a lot more art supplies within reach. With more
choice comes more responsibility. Give your child as much or as little responsibility
as they can handle and build up from there.
Montessori left us a guide for how a schoolroom should be designed. As parents we
are adapting our homes to align with a learning pedagogy, which to many has
effectively become a lifestyle. However, the home shouldn't look like a classroom
(unless you are homeschooling). It's a learning environment but also a family / play
environment. Don't be afraid to express your own unique "flavor" of Montessori. As
long as you follow and respect the child, you can't go wrong."
I love this advice! Sometimes scrolling through these perfect Montessori homes, it can seem like you're not measuring up. But Montessori was never meant to be this grand thing, out of reach for most. The exact opposite is true. Montessori is meant for everyone! We often find materials, activities, and DIY's from things around the house, thrift stores, and bargain hunting. You can do Montessori anywhere and with any budget. :)
Do you have any other comments or thoughts you would like to
highlight?
"I would like parents to remember that though the prepared environment is
important, you can start implementing Montessori at home before you even begin to
prepare the environment. One of the easiest ways to start can be to simply include
your child in practical life activities such as baking, cooking or cleaning. Give them a
chance to do things for themselves, without interrupting. Let them struggle to put
on their shoes even if it takes a few extra minutes to get out the door.
Montessori starts with a shift in mindset; the realization that children, even the
smallest of them, are immensely capable. As parents this can challenge us at times
because it requires us to slow down, be fully present, and trust the child to lead her
own learning journey. But if we can do this, we will set them up for success with
self-confidence and a foundation for life-long learning."
We wanted to conclude with a big THANK YOU to Sara from @wonderhouseofa. We have loved being able to highlight her knowledge, thoughts, and ideas when it comes to a prepared Montessori environment at home. If you like anything mentioned above or the beautiful pictures provided, you should really check out her instagram account. It is full of inspiration, beauty and education!
https://inspiredmontessorilearning.com/wp-content/uploads/2021/05/Blog-Featured-Photo-Template-14.png
810
1200
Rachel Yentes
https://inspiredmontessorilearning.com/wp-content/uploads/2020/06/IMLfortheweb.png
Rachel Yentes
2021-05-19 03:13:34
2021-05-20 19:21:36
Interview Spotlight With Wonder House of A